Everyone is stronger together!
Collaborate with an IT company that goes further to satisfy you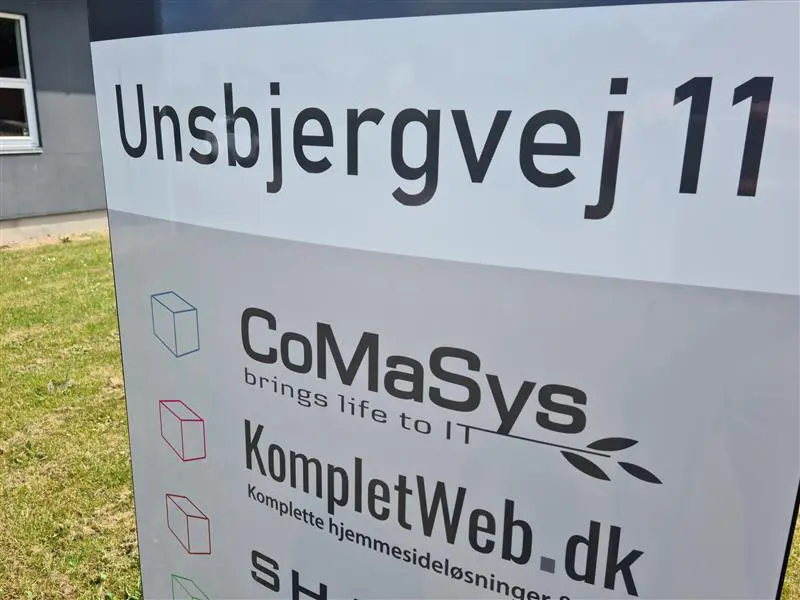 CoMaSys - IT company in Odense with partners throughout Denmark
Are you an IT company and could you use more customers? So consider partnering with us.
 Do you need a stable provider of your services?
 Do you want to offer a larger portfolio of services and products?
 Do you want to combine your services with one supplier and thus save money?
   …or get more jobs in your business?
What do you get as a partner at the IT company CoMaSys?
Do you want to earn more on your services and products?
As your partner, we have assured you good prices and quality of the services and products you already use for your customers.
We have spent many years building a close collaboration and a professional relationship with our suppliers. We have selected the best and spoken your case. That is why we can offer you some exceptional prices which are hard to find elsewhere.
If you want to make more money on what you are already selling? Do you want to improve your competitiveness in the market?
Then just contact our IT company in Odense. We have customers all over the country, and we are happy to introduce you to our range of services and products. It is, of course, quite free and without obligation.
Favorable terms that you do not get elsewhere
When you become a partner with us, in addition to good prices, we have also ensured you really good terms on our services and products.
It can e.g. be exempt from set-up fees, lock-in periods and notice periods.
It may also be that you are with a customer in a special situation who needs unique solutions and a good price, or some extra features. Here we will go to great lengths to help you get the customer in house, through our strong collaboration with suppliers. We also regularly offer all our partners promotional prices, where you can make big savings on products and services. That way, you can make extra good prices for your customers, which can help you secure the task, rather than one of your competitors.
Our range and services range widely. Among other things, we can offer good prices and solutions on Office 365, SSL certificates, Webroot Secureanywhere antivirus, virtual server, Acronis backup, web hotels, SMS gateways, business internet, FlexFone IP telephony and much more.
Support and training for you as part of our partner program
In collaboration with you, we do everything we can to support your own customers. But of course we are always available if you need support.
We start with a thorough introduction to the products you offer through us, so you are in no doubt about anything.
As a support to our partners, we occasionally hold a partner event. Here you will be able to get a closer look at any focus products. There will be a visit from a representative from a supplier who can answer questions and give you new USPs for your sales work as well as upgrade your technical knowledge.
We ensure both visits from Danish as well as international suppliers.
Our IT company offers only products and services of the highest quality
With us, you get a wide range of products and services, which include our own as well as a carefully selected range of services and products from external partners.
Therefore, many gather their services with us, avoid too many suppliers and achieve an easy and clear administration.
hosting
 
Hosted Exchange - Hosted Disk - Web Hosting
Security
Firewall - Antivirus - Remote Backup
Email Scanning - SSL Certificates
Infrastructure and network
What partner customers as well as partners say
"For almost many years, I have used CoMaSys partner both when it comes to Hosting and Exchange, when it comes to setting up Computer and Smartphone, which occasionally needs to be replaced. As a user, I have often forgotten how it was done last time, it just requires an email or a phone call, then there is a quick response and well to notice an answer that I can also use "
Tranekaer-Teknik Aps.
Asbjørn Tranekær
Manager
"When you experience the loss of important data, you find out how difficult and costly it can be to recreate.
VVS FYN ApS experienced losing important data, even though we backed up ourselves daily via an external hard drive.
CoMaSys fulfills our desire for secure backup, so we do not end up in the same situation again. "
VVS Fyn
Martin Bo Østerkær
Director and Holder
"With Ruckus Access Points, CoMaSys has transformed the WiFi that last year was so unstable that it was costing the hotel customers, into a WiFi in a class of its own, with an experience that pleases customers and staff."
Tom Pedersen quickly concludes that CoMaSys partner as a supplier, has been a correct choice and now knows that he has a wireless network that he confidently gives guests access to.
Frederik IV's Hotel
Tom Pedersen
Hotel manager
When switching to a new telephone system, we have used CoMaSys as an advisor in connection with this.
Although the choice finally fell on a plant not provided by CoMaSys partner, we still get great value out of their competent and impartial advice.
SAS Ground Handling DK
Krunoslav Katana
traffic Manager
"I just switched back to CoMaSys web hosting, after trying other vendors.
I have returned to CoMaSys because they simply provide the best personal service!
And there is not so much fuss with them. - Everything works, you get good personal help and good prices.
So why use others? "
Bureau Graphics
Katrine Rosenberg
Freelance graphic designer
"A human web hotel.
CoMaSys has hosted my website for all the 9 years they have been around.
I have never had problems that were not resolved promptly and they have been very few and very short-lived.
They host both my websites and my email accounts, so the extremely rare times it has been down, I have grabbed the bone and almost every time got it fixed right away. "
Stenovne.dk
Lars Helbro
Ovnbygger
I am a happy dealer of CoMaSys CMS system for 5 years. It is easy to build a website in, and the fact that you know that there is always help to get gives a great sense of security. No matter what great challenge a customer faces, of great special solutions, CoMaSys can handle it. And you do not have to be afraid of getting a bill every time you ask a question.
I can only give Comasys my best recommendations. "
Ad4You
Linette Velin
Manager
Contact our IT company in Odense for a non-binding offer - no matter where in the country you are located
Do you want a free and non-binding offer, or do you want to become part of our partner program. So contact us today for a no-obligation talk about the various options.
Partner customers
A small selection of those we have performed tasks for
Vi vil så gerne have dig med på holdet !
Udfyld nedenstående felter og vi ringer dig op så vi kan drøfte, hvordan vi sammensætter en ordning der passer til dig og dit firma