Live interaction with your event
Let the audience take the lead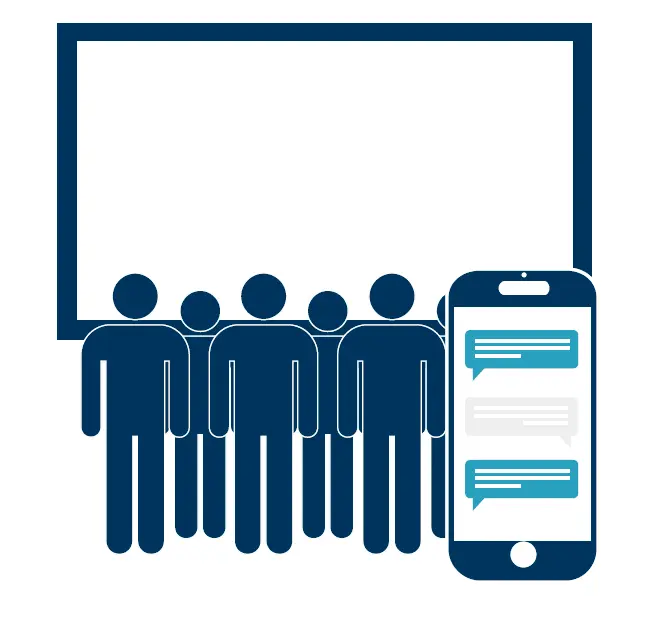 SMS to screen
With SMS to screen, you give participants a unique opportunity to interact with your event, and at the same time it allows you to get direct feedback from the audience.
The system can be used for conferences, sports matches, concerts, lectures, etc.
It helps you to:
Get an important message out to everyone at once
Give the audience the opportunity to ask questions
Get input for discussions
Show offers from you or sponsors
Simple and straightforward system
Participants send an SMS with a keyword, e.g. SONG, followed by their message to 1919. The SMS is registered in the system and put in a list where it awaits your approval. Once you have approved the SMS, it will be displayed on the connected large screen or where it is desired to be displayed.
Live interaction with the audience, at no cost
With SMS to screen at CoMaSys , you will have the opportunity to recoup the expenses. By using the system, it is possible to charge for the SMS sent to the screen.
You get a share of the price of the charged SMSs and even determine the price per SMS *.
The cost of the subscription is quickly recouped if you choose to use charged SMS.
The price includes a keyword.
* You get a share if the SMS charge is over 85 øre per text message.
Vi vil så gerne have dig med på holdet !
Udfyld nedenstående felter og vi ringer dig op så vi kan drøfte, hvordan vi sammensætter en ordning der passer til dig og dit firma