WEBROOT Antivirus
SEK 204 per year per PC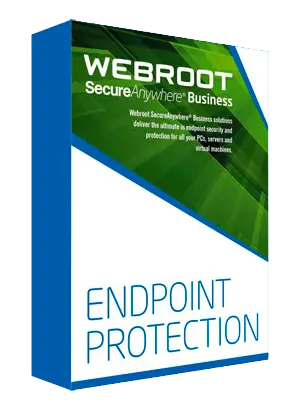 Try first
After 2 hours you will receive an email with the software to be installed. Next, you will receive an invoice that can be paid by credit card
within 30 days.
Cloud Antivirus
This antivirus does not work like the others you know. There is no daily update. This happens several times an hour, as the system runs "live"
Does not slow down your PC
The system works continuously, primarily with the files that are active. This does not slow down your system - you do not notice that it is running in the background. Thus, it is also ingenious for older PCs.
Free support
It is self-driving, but if you still need a little help, we are ready to support you by phone.
60x faster speed
That's what makes the difference. All your devices can be protected for low price. Among other things, you will be protected from ransomware and identity theft, which are becoming more and more widespread globally.

Webroot Secureanywhere antivirus program
What if you never had to worry about Internet security?
Today, the Internet is a regular part of most people's lives. Children, young people, old, large and small companies.
Unfortunately, this also means that it is an obvious entrance for people with bad intentions.
Surfing the web, downloading programs, files and apps can suddenly pose a security threat. Your personal data, files, photos and more may be at risk.
With a good antivirus program like Webroot, you do not have to worry. The award-winning antivirus program gives you benefits like:
Quick scans of your computer
Takes up very little space
Does not slow down the computer with major updates
Real-time scanner - it works continuously in the background
Is constantly updated regarding. new online threats
Do you want to surf, download programs, files and apps - without worries? Then Webroot antivirus is your solution.
FAQ - Frequently asked questions about antivirus
What does a license cost per month?
The price for an antivirus license is only DKK 17 per month per. unit. In addition, there is no notice period.
Which antivirus should I choose?
There are many antivirus products on the market. Even free products. When choosing an antivirus, it is important to keep one thing in mind. You get what you pay for. With Webroot you get a constantly updated antivirus. It takes into account both malware, identity theft and takes up incredibly little space.
What does Cloud Antivirus - antivirus in the cloud mean?
Traditional antivirus programs have been known to take up a lot of space on the user's computer. With a cloud-based solution, a smaller application is installed on the device. Via the internet connection, the computer is scanned for possible threats through a cloud-based server. The data is analyzed and measures for possible threats are sent back to the device.  
A cloud based antivirus program that does not slow down your computer
Are you tired of antivirus programs that slow down your computer? Or that you have to wait for long scans and updates?
Because Webroot is cloud-based, it scans quickly and takes up very little space. At the same time, the cloud-based solution prevents your computer or device from doing the hard work. It makes the cloud for you.
In fact, it scans your PC up to 60x faster than the competition. And it takes up 50x less space on your hard drive.
Webroot secureanywhere antivirus protection from end to end
The Internet is a big part of our lives. We use it when we shop online, use online banking, communicate with each other, for storage of personal photos and documents and much more. Webroot antivirus makes your online journey less vulnerable.
Webroot antivirus protects you against:
identity theft
malware
Virus attacks
Monitoring your webcam
Phishing attacks
Are you looking for free antivirus? Try our virus program for free for 30 days
Do you need sight for the case? The good thing about Webroot Antivirus is that you have an option for a free trial period of 30 days. All you have to do is sign up here. You will then receive an email from us, with the option to download and install your new antivirus. After that, just let it work for you. We almost dare say you do not feel that it is there.
Do you need cheap antivirus that does not compromise security?
Buy Webroot Secureanywhere Antivirus at CoMaSys
If you want to get Webroot Antivirus, just fill out the order here. If you want to hear more about Webroot or other of our products, you are more than welcome to contact us on tel. 70 269 267.
We have satisfied customers from all over Denmark.
We know you will be satisfied…
No notice period. If, unexpectedly, you want to stop, you will not receive any more bills
First test the system for 30 days before paying.
Scans to PC up to 60x faster than other antivirus programs
Loads up to 50x less on your hard drive than other antivirus programs
Cloud antivirus - you get "live" updates several times an hour
Protection against identity theft, malware, viruses, webcams and more
Become more confident
Do you have an overview of how much data is on your PC? You may have your private photos, working documents, private attachments, etc. that are not protected. It would be a disaster if you lost it all. Do something now to prevent that from happening. It's often not a question of whether it's happening - it's more a question of when it's happening!

I have been using Webroot ever since I had the bad experience of getting infected with just about everything.!
Webroot has done the job of protecting my system and has given me the confidence to relax and perform what I need to get done on my computer.
I can highly recommend Webroot.

I fell victim to identity theft twice! Since I installed Webroot, I have not had any additional issues with hacking or identity theft. Branch Webroot. I look forward to renewing my membership every year!

I just switched to WEBROOT a few months ago and so far I love it! I have 5 units and the installation process was a breeze. It works quietly in the background, which I love. I have not had any problems or worries. Thanks WEBROOT!
So what are you waiting for?
You can choose to just pay the invoices we send manually - thus we do not automatically withdraw from your credit card. You decide!
When you order, an email will arrive within 2 hours, where you can download and install the software that you need to try. All you have to do is install. Then it all runs automatically.
Read more here about CoMaSys' general services