- It does not have to go so wrong!
One in four companies in Denmark has experienced data loss as a result of hacker attacks, fire, burglary or human error…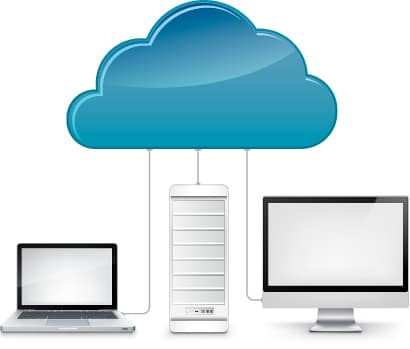 Remote Backup from CoMaSys
A Remote Backup solution from our IT company solves many of the challenges of backup completely automatically.
Before data is sent from your network, it is encrypted to secure data as best as possible. Data is compressed to get the best possible performance and provide the least load on the network and internet connection.
To provide the best security, backup data is stored in two different secure server centers in Denmark, physically located at a good distance.
- This secures your backup against hacker attacks, vandalism, fire and sabotage.
Remote Backup in the cloud from Acronis runs automatically according to a scheduled time program that is tailored to your needs. Should you need your backup, it is available to you around the clock, all year round - and no matter where you are in the world, as long as you have internet access.
Our backup technicians guide and advise on the entire Remote Backup process.
Our backup technicians help you get started with Remote Backup and install all the necessary software on both workstations and servers.
Our backup technicians review the need for backup with you, and set up the software based on your needs.
Our backup technicians monitor your Remote Backup solution, and read all the reports that are sent after each backup has been set off.
Save time and resources
It is no longer necessary to purchase and maintain your own backup solution.
Remote Backup is performed continuously and automatically.
Sleep well at night with Remote Backup
A report is sent for each Remote Backup started.
All data is encrypted with a password of your choice before leaving the corporate network.
All data is stored in 2 separate data centers which are physically separated. Both located in Denmark.
All relevant data is secured against flood, fire, breakdown, sabotage and theft.
All data can be recovered quickly via the internet connection. - they can also be delivered physically.
The backup is performed automatically according to the scheduled schedule.
We back up almost everything
Our Remote Backup software runs on:
| | | | |
| --- | --- | --- | --- |
| Windows | Mac OS X | Unix | Linux |
VMware
ESX & ESXi incl. vCenter
VDDK and CBT
VMware
Server workstation
Fusion Player
Microsoft Exchange
Database Availability
Groups both mailbox and database level
Microsoft Exchange Server
both mailbox and server level
Lotus Domino
Lotus Notes
Oracle Database
MS SQL Server
Microsoft Hyper-V
MySQL
Microsoft Outlook / Express
Windows System State
Windows System Backup
Vi vil så gerne have dig med på holdet !
Udfyld nedenstående felter og vi ringer dig op så vi kan drøfte, hvordan vi sammensætter en ordning der passer til dig og dit firma